Special offers
Your search did not produce any results
Where are we
Contact centre
Contact centre

Austria:
Booking Wien
Tel: + 43/ 1 / 799 23 45
Fax: +43/ 1 / 799 23 45 - 417

Croatia:
Marina Kremik Primošten
Tel: + 385 / 22 / 555 555

Germany
+49 (0) 7531 892 624 52

Switzerland
+41 (0) 71 511 37 97

Working hours

Office hours Wien:
Tue - Thu 08:30 - 17:00

Office hours Primosten:
Mon - Sun 08:00 - 17:00

Skype
Perfect Service
We are available around the clock; our German-speaking staff at the base will help you any time with any questions about the boat and about trip planning, mooring and restaurant reservations. And should you ever have problems with the yacht while on tour, you can contact our service people quickly.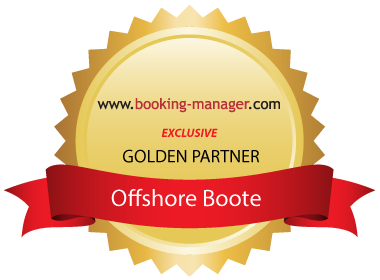 Registration and notice of departure of persons
At arrival at the Marina Kremik:
The tourist registration and notice of departure of your crew members will be done for you directly at the office of Offshore-Boote in the Marina Kremik. The tax that you have to pay will be forwarded to the tourist board.
We further register you with the crew list online at the Ministry of Sea for the duration of your charter trip - this application is forwarded to the authorities and is also your police registration.
During the Tour:
Immediately after entering a port or a berth, you must register with the boat papers and the crew list at the relevant local office. Before leaving, you have to give notice of departure, pay demurrage for your yacht and you get your boat papers back.